Downloading Fiabee for Windows...
The Fiabee download should start automatically. If not,
click here
to restart.
1. Download Fiabee
Accept the download of the Fiabee installer to proceed.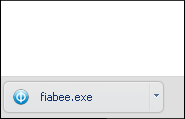 When the download is finished, click to execute the installer.
2. Follow the steps of the installer
Follow the steps to install Fiabee on your computer and start synchronizing and sharing folders!